Ball Valves
3- and 5-Way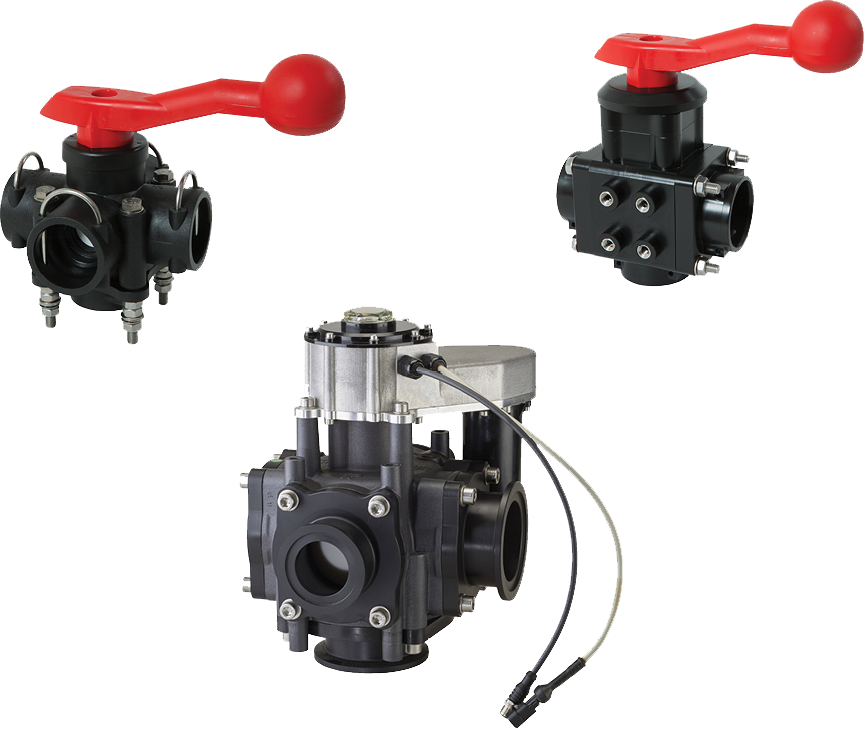 For both suction applications as well as for pressure applications. altek offers ball valves in the sizes 1¼", 2" and 3". They can be driven either manually or electrically.
The ball is made from wear resistant POM & Teflon with easy slyde properties. The sealing rings can be adjusted in the housing. Consequently, a safe sealing and functioning of the sprayer is secured for many years.
Our uppermost maxime regarding the development of the balves is to satisfy the increasing lifetime requirements. We have optimized wear resistance and surface conditions by choosing a special material. Likewise, the wear resistance of the sealing rings was enhanced by a special contouring and thanks to the choice of material.
Our balls made from POM have a significant weight advantage in comparison to steel balls at the same or even longer lifetime!
Compact design
High wear resistance
Ball bearing shaft
Special fittings on request
altek Plug-In System for 5-way Ball Valve 1 ¼"
The 5-way Ball Valve 2" allows hose diameters of up to 60 mm
Manual 5-Way Ball Valves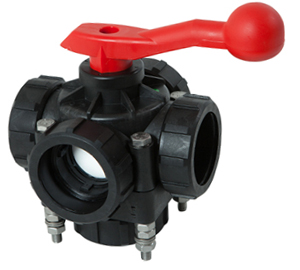 Individually adjustable seals*
High wear resistance
Retrofittable with electric drive**
On request: special connections
* Not for KH3 Ball valves
** Both for the KH2 (15bar) Ball valve and the KH3 Ball valve an update to the electric drive is not possible at the moment
Electric 5-Way Ball Valves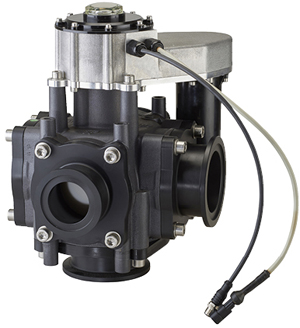 additionally to the properties of the manual 5-way ball valves:
With optionally 1 or 2 turning directions
Positioning the ball via microswitch***
Integrated emergency control
*** Optional: Positioning with Potentiometer
5-Way Ball Valves SMART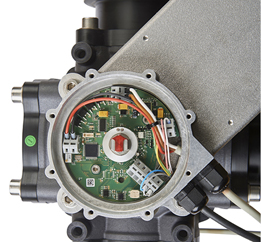 The control of the ball valve is done via CAN bus, in case of failure this can also be operated manually
In the event of blockages or faults, corresponding error messages are sent to the controller
Diagnostic capability by output of operational data
In the event of a blockage or malfunction, integrated current protection prevents overloading the engine and transmission
Drive type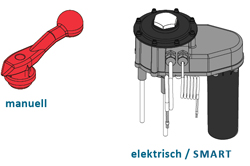 The switching ball of the electric ball valve is moved via the control line.
In the SMART version, the ball valve communicates via the CAN bus.
Flow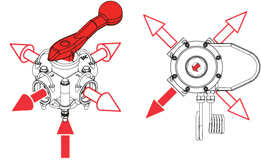 Fluid inflow is on all ball valves from below.
The red shift lever shows the position of the shift ball with manual ball valves.
Through the sight glass in the cover, the red arrow indicates the ball position in the electric or SMART valve.