altek Quick-Fit Plug-In-System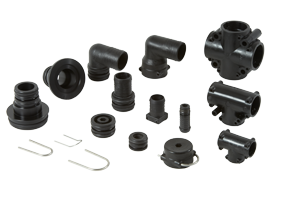 altek Quick-Fit Plug-In-System
Since many years the Quick-Fit Plug-In-System (AS) is a successful parts in our product range.
It allows many plug-in variations, e.g. with hose-fittings, t-pieces, cross- pieces or tank-fittings and it is the simplest and quickest connecting method, to create fluid circles for sprayers.
Our Quick-Fit Plug-In-System ist compatibel with all altek components (Pressure Regulators, Ball Valves, Boom Section Valves and Pressure Relief Valves, etc.).
Their outstanding feature is their excellent strength. We use glass-fibre reinforced POM and FPM gaskets (Viton) for sealing.
Plug-in system with a secure attachment
Cost savings through shorter assembly times
Sealing tape for threaded connections is hardly needed
High flexibility for the assembly staff!
Mounted components (e.g., hose nozzles) can be twisted without loss of tightness and adjusted to the hose path.
altek Plug-In-System
Like the altek modular system which has been used succesfully since many years, also our plug-in system has proven itself as reliable and resonable system.

The combination of male and female plug-in fittings and the simple safety connection with the safety pin is still the fastest possibility for fittings up to 50 mm of the

altek Plug in System (AS50) to create a hose connection which can be undone easily at any time. We have decided to go on using this highly efficient system in our products. However, we will also dedicate ourselves to the market requirements and offer adapters for BSP threats for our products in the future.
How does the altek Plug-In System function?
The altek Plug-In System consists of male and female fittings which are sealed with an o-ring fitted onto the male AS fitting, which seals once pushed into the corresponding AS Female housing. The two parts are then locked together using a stainless u-shape clip.
The Sizes of the AS quick fit system indicates which range of fittings they will connect. Today we have fittings available in Altek system sizes AS20, AS24, AS30, AS40 and AS50.