Altek GmbH is your development partner specializing in the delivery of liquids for plant protection equipment.
As part of Bertolini Pumps, our solutions start with pumps but extend to ball valves, filters, regulators and fittings and the range is rounded off with selectable nozzle body control valves.
direct link to our catalogue
Modular market capture
We have achieved this with our modular construction kit principle, among other things. This may sound simple, but we have optimised it in every detail and made it our own. Because it is only in this way that working with Altek will be simple for you as well:
• Specially produced products and system solutions for your detailed, individual needs.
• Easy-to-use complete electronic solutions with efficient components and systems with diagnostic capability.
• Consistently high quality with short delivery times thanks to well thought out production chains with in-depth final checking of your products.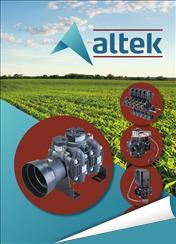 Discover more about Altek with our digital brochure
Digital farming
This means that, with us, you are also prepared for market developments which are yet to come. So that this remains the case, we guarantee constant close collaboration with our clients in the process of developing new plant protection equipment.
The latest Altek "E" ball valves and nozzle bodies are designed to work via CAN-BUS network allowing easy communication with your spraying control syste.This provides fast response to any changes during the application of plant protection products ensuring Pricision application at all times.