Next Generation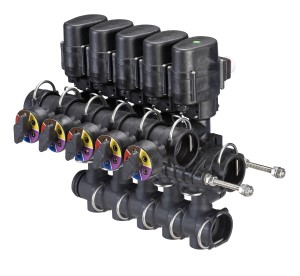 Improvements to the second generation of our Modular-Fit Valves are as follows:
Our proven lip seal and o-ring arrangement as used in Spray-Stop and Multi-Spray is now used in the valve body (1).
The mechanical fuse has been replaced by an integrated circuit breaker on the printed circuit. This protects the motor against overheating, e.g. in the case of to low voltage supply. In this case a signal can be provided to inform the operator.
A stainless pin and lip seal combination is used in the pressure relief channel port (2). This provides a secure and safe sealing in addition to easy servicing.
Specifications:
New and improved sealing (1) of motor / transmission unit
sealing plug (2) incorporates all sealing Elements -> easy access and exchange in service case
Wear resistand lip / plunger sealing (2) in the pressure relieve channel
Flow rates up to 40 l/min at only 0.15 bar pressure loss per section valve
Switching time 0.7 s
Individually configurable boom sections up to 13 valves
Electrical connections to suit all systems