Variable Rate Control for Planters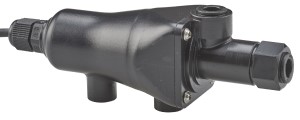 Designed for use with multiple-row planting machines equipped with applicators applying liquid fertiliser directly during planting operation. The Vari-Feed motorised valve can be controlled to supply variable volume rates at each outlet.
The valve can be used in conjunction with variable rate software / application prescription maps where different volumes are required within a row or in a lateral distribution.
Low power requirement!
Specifications:
Drive: Stepper Motor
Power Supply: 12 V (24 V option 20 mm/s @ 24 V)
Duty cycle: max. 50 %
Total stroke pin rod: 2.5 mm
Pressure range: 0-5 bar
Current draw: 300 mA
Speed: 10 mm/s @ 12 V
Lifetime: min. 1 Mio. cycles
Stroke per step: 0,033 mm
Flow range: 0-4 l/min
in cooperation with